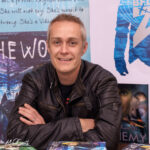 Dan Smith
Dan Smith is an award-winning author of adventure stories and historical fiction for younger readers, and thrillers for adults.
Books by Dan Smith
Dan Smith, Chris King (illustrator)
"He's an author who obviously knows the horror genre; you know that he has watched every horror movie, he's read all the horror books. There are loads of little nods to classic horror in his stories, which I really love. I think a lot of them are things that you'll recognise as an older person reading it, which is really fun, like a nod to A Nightmare on Elm Street. As a child, you wouldn't know those links, but you would still enjoy the scare in them. Below Zero, it's got the setting. I think when you live in a country where you don't get lots and lots of snow, any book that sits in ice and snow always instantly puts you in that different place. It's all icy, and it's got that more chilling atmosphere. There are some really scary bits in this book, so I'd say it's horror for children age 10-12." Read more...
Best Horror Novels for 9-12 Year Olds
Jennifer Killick, Children's Author
When the Japanese invade Malaya in World War Two, Nisha escapes to her paternal grandmother's home on an English island. The novel is interspersed with entries from Nisha's own journal, sunny memories of eating fresh fruit and running barefoot, and awful ones of planes diving from the sky and the rattle of machine guns firing on civilians. At first Nisha thinks her grandmother's lack of sympathy is because she disapproves of Nisha's Indian mother, but gradually she comes to understand that there is something else behind her grandmother's coldness. An evocative story of finding courage and carrying on when life is tough, as well as a gentle ghost story.
Ages 9-12
Interviews with Dan Smith
There needs to be a lot more sci-fi for kids, especially if it's got a good dose of horror, argues Dan Smith, author of the sci-fi mystery series Crooked Oak. He recommends five works of science fiction for 8 to 12 year olds, from books written more than half a century ago to more recent jewels.
Interviews where books by Dan Smith were recommended
Adults sometimes worry that horror novels are too scary for children, but children's author Jennifer Killick is a fan. Here she picks out five fantastic horror books for 9-12 year olds and explains that in addition to the sheer fun of reading a thriller, horror books can help kids develop courage and often appeal to reluctant readers.