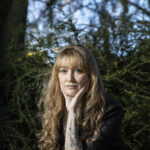 Jennifer Killick
Jennifer Killick has written numerous books for children. She loves to visit schools and festivals and talk with children about books. Her first horror story, Crater Lake, was selected as a bookbuzz title by the UK reading charity BookTrust.
Books by Jennifer Killick
Interviews with Jennifer Killick
Adults sometimes worry that horror novels are too scary for children, but children's author Jennifer Killick is a fan. Here she picks out five fantastic horror books for 9-12 year olds and explains that in addition to the sheer fun of reading a thriller, horror books can help kids develop courage and often appeal to reluctant readers.
Interviews where books by Jennifer Killick were recommended
There needs to be a lot more sci-fi for kids, especially if it's got a good dose of horror, argues Dan Smith, author of the sci-fi mystery series Crooked Oak. He recommends five works of science fiction for 8 to 12 year olds, from books written more than half a century ago to more recent jewels.
Books by Jennifer Killick