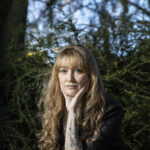 Jennifer Killick
Jennifer Killick has written numerous books for children. She loves to visit schools and festivals and talk with children about books. Her first horror story, Crater Lake, was selected as a bookbuzz title by the UK reading charity BookTrust.
Books by Jennifer Killick
Dread Wood (book 2). Thriller books for kids with the scares well balanced by humour. Age 9+
Fast paced and full of macabre humour, this is a gripping read for children who enjoy thrillers. Four 12 year olds turn up at school for a Saturday detention, which they soon rename "deathention" as things go from bizarre to terrifying. While they figure out what is going on and in getting to know each other outside their normal environment, the children do some reflecting and come out of the experience more thoughtful and aware of the effect their actions can have on others. A word of warning: better not get this book for an arachnophobe.
Ages 9-12
Interviews with Jennifer Killick
Adults sometimes worry that horror novels are too scary for children, but children's author Jennifer Killick is a fan. Here she picks out five fantastic horror books for 9-12 year olds and explains that in addition to the sheer fun of reading a thriller, horror books can help kids develop courage and often appeal to reluctant readers.
Books by Jennifer Killick