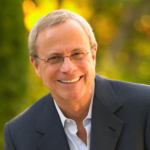 David Allen
David Allen is one of the world's leading authority on personal and organizational productivity. His 30 years of research, coaching and education of some of the world's highest-performing professionals earned him recognition from Forbes magazine as one of the top five executive coaches in the United States. Allen is the author of three books including the international bestseller, Getting Things Done: the Art of Stress-Free Productivity. A perennial business bestseller since it's publication in 2001, Getting Things Done (also known as 'the GTD method') is now published in 28 languages. Time magazine declared it "the defining self-help business book of its time."
Books by David Allen
"It was aimed, in the first instance, at a more conventional realm of managers, and yet it's a book that crystallised a handful of really deep and true and powerful insights about how to organise your work within time—the kind of insights that are so fundamental now that Allen probably doesn't get all the credit he should get, because they just seem like givens." Read more...
The best books on Time Management
Oliver Burkeman, Journalist
Interviews with David Allen
If you feel like you lose whole days to procrastination or indecision—or simply have too much to do!—you probably want advice on how improve your productivity. We spoke to David Allen, creator of the perennial bestseller Getting Things Done, about the best books on the subject: why we waste time, and what we can change to be more productive.
Interviews where books by David Allen were recommended
Feeling stressed and overwhelmed? You are not alone. Oliver Burkeman, author of Four Thousand Weeks, selects some of the best books on time management—including two classic how-to guides, plus several texts focused on helping you decide how you really want to spend your finite time on this planet.