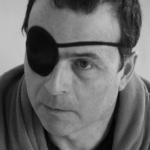 David Downie
David D. Downie is a multilingual Paris-based American nonfiction author, crime novelist and journalist who writes most often about culture, food and travel.
Interviews with David Downie
The city of romance and art is also, like most big cities, a place of grit and grime. The American writer and long-time Paris resident David Downie tells us where to look if we're to understand the people and past of this most alluring city.
Interviews where books by David Downie were recommended
A culinary tour of Italian food, with co-founder of the acclaimed River Café restaurant Ruth Rogers. She tells us about the books that have inspired her, including the one she asks all her chefs to read!