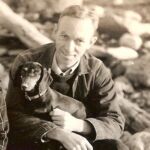 E.B. White
Elwyn Brooks White wrote Charlotte's Web as well as writing for the New Yorker and winning a Pulitzer Prize. "White, for me, is the great maker of the New Yorker style." Adam Gopnik picking out five masters of the essay.
Books by E.B. White
***2020 Audie Awards Best Audiobook for Middle Grade***
The audiobook version of E. B. White's classic tale, Charlotte's Web, is narrated by Meryl Streep and a full cast of actors.
Length: 4 hours and 2 minutes
Ages: 8-11
"It is very nice having a title that's for younger children recognized as a truly stellar audiobook, because sometimes people think that audiobooks are to help kids learn to read and not for them to fall in love with literature. But that's what the audiobook recording of Charlotte's Web does. It lets young kids and their parents revisit a beautiful title and fall in love with the book." Read more...
The 2020 Audie Awards: Audiobook of the Year
"White, for me, is the great maker of the New Yorker style. Though it seems self-serving for me to say it, I think that style was the next step in the creation of the essay tone. One of the things White does is use a lot of the habits of the American newspaper in his essays. He is a genuinely simple, spare, understated writer. In the presence of White, even writers as inspired as Woolf and Beerbohm suddenly look stuffy and literary. White has an amazing ability, which I still marvel at, to come very close to a faux-naïve simplicity that's excessive and then pull it back." Read more...
Adam Gopnik on his Favourite Essay Collections
Adam Gopnik, Journalist
"It's a great snapshot of how the city changes slightly over time, and I guess that's why people say it's a letter—because he's revisiting it. It's not formally a letter, of course, but White is coming back to New York, and he's grappling with his own memories. In my book, I say a lot of letters are about longing and missing things, and that's certainly the case here, in that White is having these memories and trying to square them with how things have changed." Read more...
The best books on New York City
Ben Greenman, Biographer
Interviews where books by E.B. White were recommended
The New Yorker's Ben Greenman selects books that get closer to the heart and history of the city. Street interviews, personal reflections and political struggles reveal NYC's vibrant but troubled past.
What makes a great essayist? Who had it, who didn't? And whose work left the biggest mark on the New Yorker? Longtime writer for the magazine, Adam Gopnik, picks out five masters of the craft
Every year, the Audie Awards celebrate the best audiobooks published over the previous year. Veteran audiobook reviewer Robin Whitten of AudioFile Magazine and Mary Burkey, who has served on multiple audiobook judging panels, explain what makes a good audiobook and talk us through the brilliant books that were finalists in the 2020 'Audiobook of the Year' category.