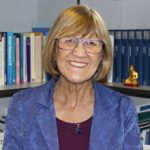 Elizabeth Harris
Elizabeth Harris is an Honorary Senior Research Fellow at the University of Birmingham. She is also a former Associate Professor in Religious Studies at the University of Liverpool Hope. Dr Harris specialises in Buddhist Studies and inter-faith studies, and has published widely in both disciplines. She is currently President of the European Network of Buddhist-Christian Studies and an International Adviser to the USA-based Society for Buddhist-Christian Studies.
Books by Elizabeth Harris
This major new work explores the British encounter with Buddhism in nineteenth century Sri Lanka, examining the way Buddhism was represented and constructed in the eyes of the British scholars, officials, travellers and religious seekers who first encountered it.
Elizabeth Harris explores what Buddhism has to say about the human condition and in particular about living in a violent world. It draws on conversations with Buddhists, Buddhist texts, the authors personal diaries and experiences to show that Buddhism in action is rarely about physical withdrawal but about engagement with the suffering of others. Drawing on the realities of the violent ethnic conflicts in Sri Lanka, the book shows that there are no easy answers but Buddhism has much to offer to those who want to understand better the dynamics of conflict.
Based on interviews with Buddhists living in both the West and the East, this is an accessible overview of the history, beliefs, practices, and rituals of the Buddhist tradition.
Interviews with Elizabeth Harris
Where does one start if one wants to know about Buddhism? Professor and practitioner, Elizabeth Harris, recommends some of the best books to get you going on the path to Enlightenment.