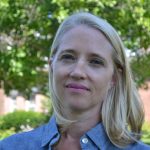 Ellen Wayland-Smith
Ellen Wayland-Smith teaches in the Writing Program at the University of Southern California, and received her PhD. in Comparative Literature from Princeton University. She is descendent of John Humphrey Noyes, the founder of the Oneida community.
Books by Ellen Wayland-Smith
Interviews with Ellen Wayland-Smith
Utopia is out of fashion because efforts to set one up normally end disastrously, says author Ellen Wayland-Smith, whose forefathers set up a utopian religious community in the 1840s in Oneida, New York. And yet, they offer a critique of society that, even today, can't be ignored. She recommends four books on literary utopias and one on real-life attempts to set up idealized communities in the United States.
Books by Ellen Wayland-Smith