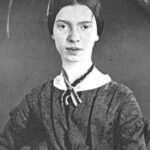 Emily Dickinson
The American poet Emily Dickinson wrote nearly 1,800 poems, however very few were published in her lifetime.
In her interview on the best American poetry, Professor Elisa New recommended viewing Dickinson's poems in the Emily Dickinson Archive. "We no longer live in a world with much handwriting. But penmanship is a form of self-presentation that writers once thought about while crafting their work. Dickinson's poems work as visual, as well as verbal, art. So this archive allows you to experience her work more fully than would an ordinary anthology."
Books by Emily Dickinson
"The Emily Dickinson Archive is a feat of scholarly effort and a cutting-edge digital project. It's like Costco, an enormous warehouse for her enormous body of work." Read more...
Elisa New, Literary Scholar
Interviews where books by Emily Dickinson were recommended
The shining core of a radical environmentalism is when we open up our circle of concern to include things beyond trees or animals or water to people of all kinds, says the writer and landscape historian Daegan Miller. Here he selects five of the best books that evoke the spirit of the movement.
With the help of a good anthology and a heaping dose of American classics, anyone can be converted to being a lover of poetry. Elisa New, Harvard scholar and host of the new PBS series Poetry in America, recommends her favorite American poets, from Emily Dickinson to Elizabeth Bishop.