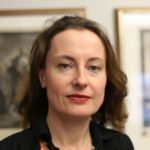 Emily Wilson
Emily Wilson is professor of Classical Studies and graduate chair of the Program in Comparative Literature & Literary Theory at the University of Pennsylvania. Her translation of the Odyssey, published by Norton in 2017, is the first known complete translation by a woman in English. In 2006, she was named a Fellow of the American Academy in Rome in Renaissance & Early Modern scholarship. She lives in Philadelphia with her three daughters and three cats. Follow her on Twitter @EmilyRCWilson.
Books by Emily Wilson
by Homer and translated by Emily Wilson
"Tell me about a complicated man.
Muse, tell me how he wandered and was lost
when he had wrecked the holy town of Troy,
and where he went, and who he met, the pain
he suffered in the storms at sea, and how
he worked to save his life and bring his men
back home."
Odyssey, opening lines (Emily Wilson translation)
If you're interested in Homer and the poem of the Odyssey, the 2017 translation by Emily Wilson, Professor of Classical Studies at the University of Pennsylvania, is a great place to start. Not only is it a highly readable translation, but the introduction provides a lot of context and historical background for anyone wondering who Homer was, when the poem was first written down etc.
Many of us would love to listen to the Odyssey, as that's how it was first delivered back in 700 BCE. Fortunately, the American actress Claire Danes has narrated the audiobook—so stick in your headphones, put your feet on the sofa, and press play.
Seneca (translated by Emily Wilson)
Interviews with Emily Wilson
The Odyssey has been constantly rewritten by centuries of writers, but like so much of Greek myth, it's always already open to revising its own narrative. Emily Wilson, Professor of Classics at the University of Pennsylvania and the first woman to translate the Odyssey into English, recommends the best books to read after (or alongside) the Ancient Greek epic, and offers sage wisdom about both translating ancient epics and why everyone can learn from the Odyssey today.
Interviews where books by Emily Wilson were recommended