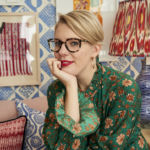 Emma Gannon
Emma Gannon is a Sunday Times bestselling author, speaker, novelist and host of the award-winning creative careers podcast in the UK, Ctrl Alt Delete, which has reached almost 10 million downloads. She has blogged since 2009 podcasted since 2016 and is the author of five books including her award-winning debut novel Olive. Her new book (Dis)connected will be published in 2022 in the UK and US.
Interviews with Emma Gannon
Lockdowns have forced many of us to pause and consider the way we are living our lives, says the podcaster and bestselling author Emma Gannon. Here she highlights five of the best self help books published in 2021, with a special focus on creativity and setting better boundaries to safeguard our time and energy.
If you are fed up and burnt out, it's time to take concrete steps towards building a better life, based on a job you love. Bestselling business author Emma Gannon tells Five Books about the career advice books that have inspired her most.