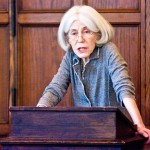 Emma Rothschild
Emma Rothschild is the Jeremy and Jane Knowles Professor of History at Harvard University, and Honorary Professor of History and Economics at Cambridge University. She has written extensively on economic history and the history of economic thought. Her latest book is The Inner Life of Empires.
Interviews with Emma Rothschild
In time of economic crisis, studying the past can teach us much about the world economy today, says economic historian Emma Rothschild.
Interviews where books by Emma Rothschild were recommended
The history professor tells us why it's less interesting to argue about whether the Empire was a force for good or ill, than to understand how it worked and why it fell apart. He suggests a reading list to get us started.
They were an eclectic bunch, including, among others, a stock market speculator, a moral philosopher, a cleric, a lawyer and a journalist. From the late-18th to the mid-19th century, they provided the first systematic explanations of how economies work, where they fail and how they might be made to work better. Here, Brad DeLong, a professor of economics at UC Berkeley, introduces the classical economists, and suggests books to read to learn more about them and what they were trying to achieve.