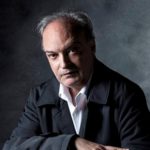 Enrique Vila-Matas
 is one of the most prestigious and original writers in contemporary Spanish fiction. With an extensive body of work, his novels have been translated into 35 languages, garnering widespread international praise. He is the recipient of many prestigious international honours and awards. His latest published works in English are the novel The Illogic of Kassel (New Directions, Harvill) and the anthology of short stories Vampire in Love (New Directions, And Other Stories). For more information, please visit: www.enriquevilamatas.com
Books by Enrique Vila-Matas
by Enrique Vila-Matas, translated by Anne McLean
"You have to be willing to walk with Vila-Matas as if he's some kind of intoxicated tour guide of a city that doesn't even entirely exist. It's wonderful. Like all the books suggested here, the drama comes in the turns of thought. If that sounds boring to you, it probably will be boring to you." Read more...
The Best Counterfactual Novels
Catherine Lacey, Novelist
Interviews with Enrique Vila-Matas
'I like to show some restraint when it comes to making things up…' The Spanish novelist Enrique Vila-Matas discusses the role of risk in writing, the 'crisis of the novel', and five books that have shaped his own work. (You can also read this interview in the original Spanish.)
'Me gusta mostrar cierta moderación cuando se trata de inventar cosas …' El escritor español Enrique Vila-Matas discute la importancia del riesgo en la escritura, la 'crisis de la novela', y cinco libros que han influenciado su propia escritura
Interviews where books by Enrique Vila-Matas were recommended
Novelists often make the decision to create alternate realities—worlds that are very like, but not quite identical, to our our own. Catherine Lacey, the acclaimed novelist whose latest book Biography of X is set in a United States in which the Southern states seceded during the 20th century, talks us through the process of plotting counterfactual timelines and recommends five books that explore the slippery relation between truth, reality, and fiction.