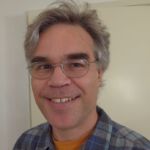 Eric Schwitzgebel
Eric Schwitzgebel is a professor of philosophy at University of California, Riverside, where he has worked since receiving his PhD from U.C. Berkeley in 1997.  He has published extensively in philosophy of mind, moral psychology, epistemology, and Chinese philosophy. Since 2006, he has blogged regularly at The Splintered Mind. Since 2013, he has published short fiction in leading science fiction magazines. His most recent book, A Theory of Jerks and Other Philosophical Misadventures, is an unruly mix of moral psychology, speculative cosmology, metaphilosophy, philosophy of technology, speculative fiction, and memoir.
Books by Eric Schwitzgebel
by Helen De Cruz, Johan De Smedt and Eric Schwitzgebel (editors)
Can you learn philosophy through science fiction? The authors of this book, Helen De Cruz, Johan De Smedt and Eric Schwitzgebel, think so. Eric also spoke to us about the best books on sci-fi and philosophy.
***🏆 A Five Books Book of the Year ***
Interviews with Eric Schwitzgebel
Serious philosophy need not take the form of a journal article or monograph, argues the philosopher and U.C. Riverside professor Eric Schwitzgebel, as he selects five science fiction books that succeed both as novels and provocative thought experiments that push us to consider deep philosophical questions from every angle.
We think of philosophy as a discipline that interrogates complex dilemmas—the nature of will, right and wrong, human freedom—with logic, reasoned thought and argument. But what do the moments in philosophy that make us stop and look outside ourselves have to teach us? According to Eric Schwitzgebel, philosopher at the University of California Riverside, they can open up worlds of fresh possibility. Here he recommends five books of philosophical wonder.
Interviews where books by Eric Schwitzgebel were recommended
We live in a golden age for philosophy books that are accessible to a wide audience. In the pages of even quite short books, we can find new ways of reflecting on who we are and how we should conduct ourselves in the world, as well as learn more about the brilliant thinkers who trod these paths before us. Our philosophy editor Nigel Warburton talks us through some of the best philosophy books that came out in 2019.