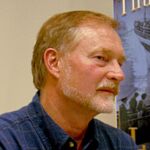 Erik Larson
Erik Larson is an American journalist and author of award-winning nonfiction books.
"Larson just has a wonderful eye for detail. And he has a way of showing how a crime is not an isolated incident but part of the larger fabric of society." David Grann, talking about The Devil in the White City.
"Larson's books often bring two narratives together, say a crime story and a technical story." Timothy Jorgensen on the best books on radiation.
Interviews where books by Erik Larson were recommended