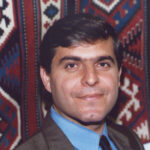 Fawaz A. Gerges
Fawaz A. Gerges is Professor of International Relations at the London School of Economics and Political Science (LSE), and holder of a professorship in Contemporary Middle East Studies. Gerges's recent books include Making the Arab World: Nasser, Qutb, and the Clash That Shaped the Arab World, and ISIS: A History.
Books by Fawaz A. Gerges
It's an important insight into how what started as a struggle by Al-Qaeda against local governments became a struggle against the West
Interviews with Fawaz A. Gerges
The Middle East has been and still is much misunderstood. Here Fawaz A. Gerges, a professor and Middle Eastern specialist at London School of Economics, recommends five pioneering works of history and social science that will help you to understand the evolution of the region's society and politics.
Interviews where books by Fawaz A. Gerges were recommended
The historian reflects on the past 60 years of American involvement in Egypt and tells us, after the Arab Spring, what may make the coming years different