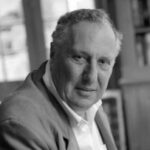 Frederick Forsyth
Frederick Forsyth is the winner of three Edgar Awards, and in 2012 he won the Diamond Dagger Award.
"Frederick Forsyth is the BMW of thriller writers. I always think if you wanted to learn how to make a car you'd get a BMW and take it apart and put it back together again as many times as you needed to work out how they do it. That's what I think about Forsyth's thriller writing." Matt Lynn recommending Great British Thrillers.
Books by Frederick Forsyth
"Essentially it consists of two interlinked hunting stories. You have the jackal, the assassin, who is stalking de Gaulle. And then you have the police and the intelligence services trying to pre-empt him, stalking him. And, to make a huge generalization, for 90% of our 300,000 years as hominids on this planet, we were hunter gatherers. It is very much in our nature, which I think explains why people are so fascinated by assassination." Read more...
The best books on Assassinations
Michael Burleigh, Historian
Interviews where books by Frederick Forsyth were recommended
Books by Frederick Forsyth