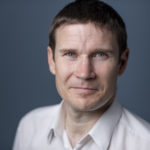 Gavin Francis
Gavin Francis qualified in medicine from Edinburgh in 1999, then spent ten years travelling, visiting all seven continents. He is the author of six books, including Empire Antarctica, Ice, Silence & Emperor Penguins which was Scottish Book of the Year in 2013 and shortlisted for the Costa, Ondaatje and Banff Prizes; and the bestselling Adventures in Human Being (2015). His latest book is Island Dreams: Mapping an Obsession (2021), an account of his 'islomania' and a study of the role of the island in the cultural consciousness. He lives and practises medicine in Edinburgh.
Interviews with Gavin Francis
Generations of writers, explorers and armchair travellers have found a focal point of fascination in the idea of the remote island. Why so? Gavin Francis, the award-winning writer, explains the everlasting appeal of the lonely isle – and why the fantasy is at least as powerful as the salt-sprayed reality – as he selects five of the best books on islands.
What can literature offer to medicine and what can medicine offer to literature? Author and physician Gavin Francis offers his professional opinion – and prescribes a list of five notable books at the intersection of his two great passions.