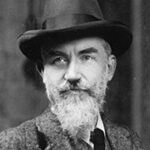 George Bernard Shaw
George Bernard Shaw was an Irish playwright and won the 1925 Nobel Prize in Literature.
Books by George Bernard Shaw
"Shaw paints a portrait of Caesar in which all the motivations that romantic biographers and filmmakers like to show as being all for love, were actually driven by hard-nosed, brutal political calculations and realities. Shaw was making comments, in a sense, on the British occupation of Egypt, which had started in 1882, and relating it to the Roman occupation." Read more...
The best books on Julius Caesar
Peter Stothard, Journalist
by George Bernard Shaw and edited by Dan Laurence
"I think all these books are very good for demystifying the whole process of music-making, and George Bernard Shaw was great at that. He represented a school that was aiming at shedding the pomposity and pretentiousness in music criticism. He takes a very witty, very down-to-earth approach. He'll spend as much time on the officiousness of provincial stewards and ushers as he will on the music and whoever is singing. He's got a very good eye for those details that make it more relevant and interesting to the non-musical ear. His reviews are so much fun – almost every week I go back to another, and they've got brilliant titles as well." Read more...
The best books on Classical Music
Igor Toronyi-Lalic, Musicians, Music Critics & Scholar
Interviews where books by George Bernard Shaw were recommended
'They don't actually want to know anything, other than that this is a holy great art form beyond any other, that creates these über-geniuses who have no flaws and can do no wrong.'
Julius Caesar was a populist politician and general of the late Roman Republic who immortalized himself not only by his beautiful writing about his military exploits, but also by the manner of his death. Here, British journalist and critic Peter Stothard, author of The Last Assassin, chooses five books to help you understand both the man and what motivated him and some of the people who have been inspired by him in the 2,000 years since he died.
Books by George Bernard Shaw