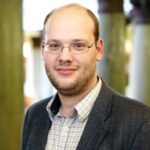 Guy Perry
Guy Perry is a British historian and Fellow at Keble College, Oxford. His research focuses on social and geographical mobility amongst the French-speaking aristocracy in the age of the Crusades. His publications include John of Brienne: King of Jerusalem, Latin Emperor of Constantinople, c.1175-1237 and The Briennes: the Rise and Fall of a Champenois Dynasty in the Age of the Crusades, c.950-1356. He is also the Principal of the Middlebury College–CMRS Oxford Humanities Program.
Interviews with Guy Perry
Once seen as a great romantic adventure, the Crusades tend to be viewed now as an early venture in Western imperialism. But, as the Oxford historian Guy Perry explains, there is nothing so simple about them. He chooses five books that get to the complex truth of the Crusades as historical phenomena.