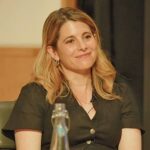 Hallie Rubenhold
Hallie Rubenhold is an American-born British historian and author. She is an expert in 18th and 19th century social history and women's history.
The Five, Rubenhold's group biography of the Jack the Ripper victims, won the 2019 Baillie Gifford Prize for Nonfiction. "This is a deeply, deeply moving book built from very scant historical evidence. One of the reasons she wrote this was, these are women without voices; these are women who historical record obscures. What she's done—through very, very good research, it strikes me—is fleshed out their stories by finding little bits of details about their lives, the lives of their families, their parents, their parents' parents. She creates a narrative where you see people nearly escaping the fate of horrible poverty, but not quite." Stig Abell, chair of the judging panel.
Books by Hallie Rubenhold
If you were drawn to Bridgerton for the scandal and melodrama of Regency London's high society look no further. Lady Worsley's Whim is a retelling of true events by the historian and author Hallie Rubenhold. Originally published in 2007, the book—a biography that reads like a novel—gained huge popularity following a 2015 BBC adaptation starring Natalie Dormer. The story centres around the spirited heiress Lady Seymour Dorothy Fleming who is married to the handsome baronet Sir Richard Worsley. Their marriage has the potential to be the stuff of fairy tales, but Sir Richards perversions and Lady Worsley's free spirit turn out to be a match made in hell—ending in one of the most salacious and highly-publicised divorces in history. Like Bridgerton, this book offers an insider view of Georgian high society that promises to shock even the modern reader with its colourful nature.
From our article Books like Bridgerton
🏆 Winner of the 2019 Baillie Gifford Prize for Non-fiction
"Hallie Rubenhold, the author of The Five, has researched the lives of these five women absolutely brilliantly. It's a great piece of detective work into some very obscure sources…She really disproves what the 'Ripperologist' literature says about the victims and recovers these women's lives with a good deal of sympathy. It's a moving book. It's humane, it's scholarly, and it challenges, from a feminist position, a whole library of books on Jack the Ripper." Read more...
The Best History Books: the 2020 Wolfson Prize shortlist
Richard Evans, Historian
Interviews where books by Hallie Rubenhold were recommended
If you're looking for the best history books published this past year, the annual Wolfson History Prize is a great place to start. Each year, the judges pick out outstanding books that are both originally researched and readable. Historian and Wolfson judge Richard Evans talks us through the six history books that made the 2020 shortlist.
Every year, the Baillie Gifford Prize judges seek to identify the very best nonfiction books published in the last year. Here, the chair of this year's judging panel Stig Abell talks us through the 2019 shortlist: a thrilling line-up of books that are as notable for their literary prowess as for their weight and significance.