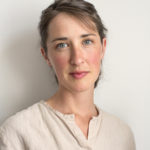 Helen Jukes
Helen Jukes is a writer and beekeeper. She tutors on the creative writing programme at Oxford University, and also works for the Bee Friendly Trust, a London-based charity that promotes understanding of honeybees and helps nurture sustainable habitats. She lives in the Welsh Marches.
Books by Helen Jukes
"Jukes' strenuous effort at relationality (her effort to get to know these creatures which are so very different from her) result in her being humanised and personalised." Read more...
Charles Foster, Medical Scientist
Interviews with Helen Jukes
Humanity has a long history of keeping bees. But what do we really know about them? Beekeeping memoirist Helen Jukes selects five books that examine both the behaviour of bees as individuals and colonies as 'superorganisms.'
Interviews where books by Helen Jukes were recommended
There has been a rash of books about epiphanic incursions into wilderness—but the best nature writing digs too into the complexities of our relationship with the natural world, says Charles Foster, the bestselling author of Being A Beast. Here, he discusses the best nature books of 2018.