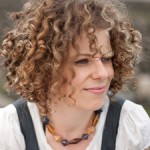 Helen Scales
Dr Helen Scales is a marine biologist, broadcaster and writer. Her books include the Guardian bestseller, Spirals in Time, the Telegraph best science book of the year, The Brilliant Abyss, and for younger readers The Great Barrier Reef and What a Shell Can Tell. She teaches marine science and science writing at Cambridge University and is advisor to the UK ocean conservation charity Sea Changers. Helen divides her time between Cambridge, England, and the wild Atlantic coast of France.
Interviews with Helen Scales
Marine biologist Helen Scales reflects on the power of stories to bring all kinds of readers into the ocean realm. She recommends books for children and young adults, and explains why her selection focuses on novels for readers age 10-14.
We plunder the ocean for food, dump our waste in it, respect its wildlife less than land-based creatures. Why? Is it a case of "out of sight, out of mind"? Marine biologist Helen Scales tells us what's down there and what we're doing to it.
Interviews where books by Helen Scales were recommended
Humans have mapped only 25 percent of the seafloor, so the ocean is ripe for exploration and investigation. Environmental journalist and author Laura Trethewey recommends five books by 'ocean journalists' that explore the life, crime and science of the seas.