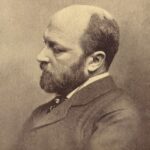 Henry James
Henry James (1843-1916) was a British-American author, considered one of the greatest English language novelists, and hence featuring on many Five Books lists."Henry James is brilliant on power relationships—people say his books are about money and class but they're not, they're about power." Salley Vickers on the best psychological novels.
Henry James was also a great letter writer: "Henry James! The greatest of all letter writers, I think, without a doubt. Wonderful. Extraordinary." Jonathan Keates, novelist and biographer on great letter writers.
Henry was the brother of philosopher William James.
Books by Henry James
"it's a story about the institution of marriage, and the diminished sphere of choice that was available to women at the time. Stories about marriage are clearly not just stories about love—sometimes not even stories about love. Marriage as a social institution, marriage as a form of power—these are at the heart of the story here. Even Isabel Archer's seduction by Osmond is a narrative that is one of power rather than romance." Read more...
Katie Kitamura on Marriage (and Divorce) in Literature
Katie Kitamura, Journalist
"Henry James! The greatest of all letter writers, I think, without a doubt. Wonderful. Extraordinary. He has an uncanny ability to connect with the feelings of his correspondents in particular situations. His condolence letters, for example, to friends who have lost close relatives, are the best condolence letters ever written. They are a warm embrace, epistolarily speaking." Read more...
The best books on Great Letter Writers
Jonathan Keates, Biographer
"This is a very Jamesian view of the innocent American abroad corrupted by the old world and, in Daisy Miller's case, killed by the old world. She represents this ideal of an American ignorant of the lurking dangers in that old world, typified by the miasmas of the Colosseum which finally kills her, but also the love that this man has for her which is powerless to save her." Read more...
The best books on Americans Abroad
Charles Glass, Journalist
Interviews where books by Henry James were recommended