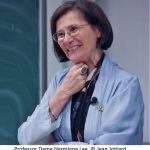 Hermione Lee
Professor Dame Hermione Lee is a biographer and literary critic. Her biography of Virginia Woolf won the British Academy Rose Mary Crawshay prize, and was named as one of the New York Times Book Review's best books of 1997. She has also written biographies of Willa Cather, Edith Wharton, and Penelope Fitzgerald, and critical studies on Elizabeth Bowen and Philip Roth. She is President of Wolfson College, Oxford.
Interviews with Hermione Lee
Virginia Woolf was long dismissed as a 'minor modernist' but now stands as one of the giants of 20th century literature. Her biographer, Hermione Lee, talks us through the best Virginia Woolf books, novels and essays, and diaries, of Virginia Woolf.