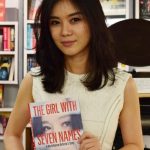 Hyeonseo Lee
Hyeonseo Lee grew up in North Korea but escaped to China in 1997 and lived there for more than 10 years. She went to Seoul, South Korea, in 2008, and struggled to adjust to life in the bustling city. Her book The Girl with Seven Names tells the story of her escape. She has become a regular speaker on the international stage fostering human rights and awareness of the plight of North Koreans; her TED talk has been viewed over 7 million times.
Interviews with Hyeonseo Lee
Kim Jong-un's posturing over nuclear weapons is a distraction from more pressing concerns: the extreme poverty and disenfranchisement of his people, says North Korean defector Hyeonseo Lee.  She chooses five books for understanding the hermit kingdom.