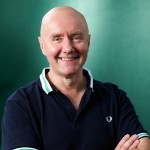 Irvine Welsh
Irvine Welsh is a Scottish novelist, playwright and short story writer. His novel Trainspotting, was made into a film. He has written plays and screenplays, and directed several short films.
Interviews with Irvine Welsh
We learn much more from failure than we do from success, says Irvine Welsh. The author of Trainspotting recommends his own favourite crime novels.
Interviews where books by Irvine Welsh were recommended
Author and social psychologist discusses the nature of drug addiction and the problems associated with it. Discusses books by Coelho, Welsh and Kerouac