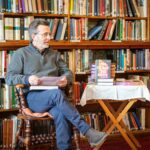 J.S. Monroe
J. S. Monroe, the pseudonym of British author and journalist Jon Stock, is the author of five psychological thrillers: Find Me, Forget My Name, The Other You, The Man on Hackpen Hill and No Place To Hide. Writing as Jon Stock, he is also the author of six spy novels. Before becoming a full-time writer he worked as a foreign correspondent in Delhi, and was weekend editor of the Daily Telegraph in London. He is currently the Royal Literary Fund Fellow at Mansfield College, Oxford, as well as on the committee of the Marlborough LitFest.
Interviews with J.S. Monroe
The best psychological thrillers are books that draw you into the lives of seemingly ordinary people, keep you turning the pages and then (often) floor you with an unexpected twist. British thriller writer JS Monroe, author of No Place to Hide, recommends some of the best ones out there, including the 1955 book that inspired the modern genre.