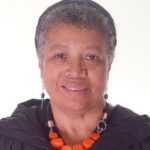 Jacqueline Roy
Jacqueline Roy is a dual-heritage author, born in London to a black Jamaican father and white British mother. In her teenage years she spent time in a psychiatric hospital, where she wrote as much as possible to retain a sense of identity; her novel The Fat Lady Sings is inspired by this experience of institutionalisation and the treatment of black people with regards to mental illness. She rediscovered a love of learning in her thirties after undertaking a Bachelors in English, and a Masters in Postcolonial Literatures. She then became a lecturer in English, specialising in Black Literature and Culture and Creative writing at Manchester Metropolitan University, where she worked full time for many years, and was a tutor on The Manchester Writing School's M.A. programme. She has written six books for children, and edited her late father's novel No Black Sparrows, published posthumously. A second novel for adults will be published in 2022. She now lives in Manchester.
Interviews with Jacqueline Roy
Black British writers have been storming the bestseller charts in the wake of the Black Lives Matter protests. Here, Jacqueline Roy—the novelist and lecturer in Black literature—selects five of the best books by Black British writers that deserve more attention.