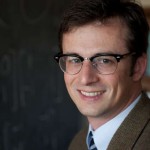 James Owen Weatherall
James Owen Weatherall is a physicist, mathematician and philosopher. He is Assistant Professor of Logic and Philosophy of Science and Director of Graduate Studies at the University of California, Irvine. His book The Physics of Wall Street was published in 2013.
Books by James Owen Weatherall
Interviews with James Owen Weatherall
Blaming "the quants" for the 2008 financial crisis is simplistic and short-sighted, says the author of The Physics of Wall Street. He picks five books showing the contribution physics has made to understanding financial markets.
Books by James Owen Weatherall