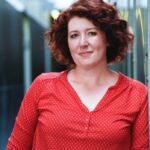 Jane Harper
Jane Harper is a prizewinning British Australian crime novelist.
Val McDermid said of Harper (in her interview for the best crime fiction of 2019), "As usual with Jane Harper, she's very good at drawing people's past into their present. There is a whole complex of historical events underpinning this story. It's about the darkest of family histories.
It's a gripping read. She writes really well. She writes dialogue particularly well. You have the sense when you're reading her dialogue that this is the way people speak to each other: it's not overworked, it's not affected. It has all those shorthand ways we use in speaking to each other, and I think there's a real sense here of a writer who is growing with every book."
Books by Jane Harper
☆ AudioFile magazine Earphones Award for an exceptional audiobook
Exiles is by Jane Harper, one of our favourite writers of mystery novels. All have been set in Australia in a genre some refer to as 'Outback noir.' Her last book was The Survivors, set by the ocean in Tasmania, her best book (according to two of our interviewees) is The Lost Man. This book, Exiles, is set in South Australia's wine country. It features Aaron Falk as the investigator, who also featured in The Dry and Force of Nature.
***🏆 A Five Books Book of the Year ***
Nobody does unsettling murder mysteries in small, remote communities—where everyone knows each other and has lots of secrets—as well as Jane Harper. The setting for The Survivors, Harper's fourth novel, is Evelyn Bay, a small (fictional) beach town on the island of Tasmania, where the ocean provides a menacing backdrop that pervades the story. Prepare to want to read this book in one sitting.
"The Survivors, by one of my favourite crime writers, British/Australian crime novelist Jane Harper, is set in a small beach town on the island, where the wildness comes not from the forest but from the ocean, stretching thousands of miles down to Antarctica….The backdrop of the menacing ocean, where terrible tragedy struck more than a decade before, is what makes this such an unsettling read. You feel the aftereffects of that trauma, a father with dementia, the frustrations of small-town life. On top of all that, there's a murder. As always with Jane Harper, the pace is slow and measured but the book is hard to put down." Read more...
The Best Crime Fiction of 2021
Sophie Roell, Journalist
"I think most people who've read her work agree The Lost Man is her best book. The great thing about this book is the setting, it's so atmospheric. You can really feel the blazing, scorching heat of the Queensland sun. It all feels very dry and dusty. And, again, this is a book where the ending really took me by surprise. It's perfect! So cleverly done, so well thought through" Read more...
The Best Contemporary Mystery Books
Mark Edwards, Novelist
Interviews where books by Jane Harper were recommended