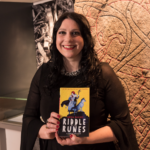 Janina Ramirez
Janina Ramirez is a highly-celebrated cultural historian, broadcaster and author based at the University of Oxford. She has been writing and presenting history documentaries for the BBC since 2010, as well as hosting an art history podcast 'The Art Detective' on the History Hit network.
Interviews with Janina Ramirez
Celebrated Anglo-Saxonist and art historian Janina Ramirez has written her first book for children: a Viking mystery with a fearless young heroine, Alva – both detective and shield-maiden. Here, Dr Ramirez recommends five superb history books to help young readers get an in-depth understanding of this exciting and often misunderstood era.