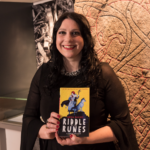 Janina Ramirez
Janina Ramirez is a highly-celebrated cultural historian, broadcaster and author based at the University of Oxford. She has been writing and presenting history documentaries for the BBC since 2010, as well as hosting an art history podcast 'The Art Detective' on the History Hit network.
Books by Janina Ramirez
Femina is a really interesting book about medieval women and history by Oxford-based historian Janina Ramirez. The title is revealing in itself: 'FEMINA' was what Ramirez found scribbled in library catalogues alongside texts known to be written by a woman. It's likely they were considered less important and hence not preserved. In the book, Ramirez introduces various medieval women and what we know about them, authors of famous texts like Julian of Norwich or the Loftus Princess, who lived in the 7th century when Christianity was just coming to England and we know only from her bones and her pendant. As Ramirez writes at the opening of the book, "Far from being 'unrecoverable,' developments in archaeology, advancements in technology and an openness to new angles have made medieval women ripe for rediscovery." Ramirez is a very engaging writer and knows just how to pique your interest (she also presents history on TV).
Interviews with Janina Ramirez
Celebrated Anglo-Saxonist and art historian Janina Ramirez has written her first book for children: a Viking mystery with a fearless young heroine, Alva – both detective and shield-maiden. Here, Dr Ramirez recommends five superb history books to help young readers get an in-depth understanding of this exciting and often misunderstood era.