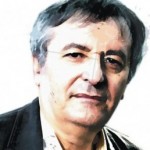 John Gray
John Gray was formerly Emeritus Professor of European Thought at the London School of Economics. He is a regular contributor to the Guardian and the New Statesman, and author of more than a dozen books, including False Dawn, the bestselling Straw Dogs, and most recently The Immortalization Commission.
Interviews with John Gray
Is it inevitable that the desire to build a perfect world should end in disaster? John Gray considers the flaws in utopian thinking and the essential nature of humans. He recommends the best critiques of utopia and apocalypse.
Interviews where books by John Gray were recommended
The British author, journalist and environmental activist talks to us about climate change. Warns that mankind has become a global catastrophe and discusses books that reveal our impact on the planet
The former CIA operative lifts the lid on the reality of spying. He says the intelligence service knew there were no weapons of mass destruction in Iraq before the war, but politicians and reporters didn't listen