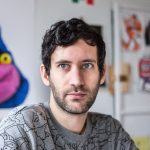 Jon Burgerman
Jon Burgerman is a British artist, based in New York, instigating improvisation and play through drawing and spectacle. He is often credited as the leading figure in the popular 'Doodle' art style. His work is placed between fine art, urban art and pop-culture, using humour to reference and question his contemporary milieu.
Interviews with Jon Burgerman
Whatever your age, play is how we test ideas, define rules and see if they hold. New York-based artist and author Jon Burgerman talks to Five Books about his favourite titles that encourage kids to have fun and be playful, without worry or fear of failure, and simply enjoy the limitless possibilities of imagination.