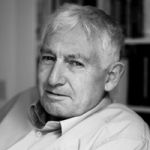 Jonathan Glover
Jonathan Glover is a British philosopher known for his studies on bioethics. He has been a fellow and tutor in philosophy at New College, Oxford, and currently teaches ethics at King's College, London. His published works on ethics include Humanity: A Moral History of the Twentieth Centuryand Causing Death and Saving Lives. He is also interested in the Human Genome Project. His 2004 lecture series at the Oxford Uehiro Centre for Practical Ethics is now published as Choosing Children: Genes, Disability, and Design.
Interviews with Jonathan Glover
The questions of moral philosophy are not always best answered by philosophy books, says leading moral philosopher, Jonathan Glover. He explores questions of how we should live and by what values in books spanning across multiple genres.
Interviews where books by Jonathan Glover were recommended
How should we live? What is the nature of reality? Should pro golfers be allowed to use carts? British philosopher Nigel Warburton sets us off down the road of philosophical enquiry with an intriguing list of introductory philosophy books.