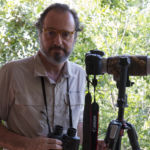 José Castelló
José R. Castelló is a medical doctor, naturalist, and wildlife photographer. He is a member of the American Society of Mammalogists and the Spanish Society for Conservation and Study of Mammals.
Interviews with José Castelló
Next time you look at your cute pooch, remember its DNA is the same as that of a wolf. José Castelló, author of the delightful field guide, Canids of the World: Wolves, Wild Dogs, Foxes, Jackals, Coyotes, and Their Relatives recommends some of the best books to read on dogs and other canids.