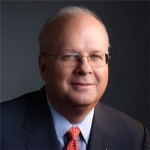 Karl Rove
Karl Rove was George W Bush's most influential White House adviser, and served as his deputy chief of staff between 2004 and 2007. He is now a columnist for The Wall Street Journal and a contributor to Fox News. He is also the author of Courage and Consequence: My Life as a Conservative in the Fight.
Books by Karl Rove
Courage and Consequence is the first intimate account from the highest level at the White House of one of the most headline-making presidencies of the modern age.
Interviews with Karl Rove
Karl Rove recommends five historical works that define, for him, the essence of American Conservatism.