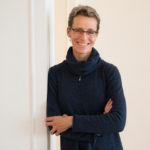 Kate Brown
Kate Brown is Professor of Science, Technology, and Society at MIT. Her books have won numerous awards in the fields of environmental history, Slavic studies, and general history. She has held fellowships from the Guggenheim Foundation, the Carnegie Foundation, the European University Institute, The Kennan Institute, Harvard's Davis Center for Russian and Eurasian Studies, and the U.S. Holocaust Museum. Brown is also a consulting editor for the American Historical Review (AHR).
Interviews with Kate Brown
While widely regarded as the world's worst nuclear accident, Chernobyl's legacy remains fiercely contested, with death tolls ranging from 31 to 200,000. MIT historian Kate Brown, who has spent years in the Chernobyl archives, picks the best books on the disaster, compares its impact with atomic bomb testing, and argues for more research into low-dose radiation exposure
Interviews where books by Kate Brown were recommended
Every year since 2013 the Russian Book Prize run by Pushkin House, a UK charity, has carried out the important task  of drawing attention to books that "encourage public understanding and intelligent debate about the Russian-speaking world." Here, Harvard historian Serhii Plokhy, chair of this year's judging panel, talks us through the books that made the 2020 shortlist.