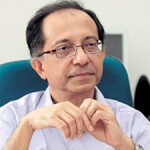 Kaushik Basu
Kaushik Basu is Professor of Economics and the C. Marks Professor of International Studies at Cornell University, and former Senior Vice President and Chief Economist of the World Bank (2012-16). From December 2009 to July 2012 he served as the Chief Economic Advisor (CEA) to the Government of India at the Ministry of Finance. His most recent book is The Republic of Beliefs: A New Approach to Law and Economics.
Interviews with Kaushik Basu
Kaushik Basu, Professor of Economics at Cornell and former Chief Economist of the World Bank (2012-2016), says there's a Gandhian way of evaluating society that takes account of both growth and inequality, and tells us why his job is an anthropologist's dream come true. He picks the best books to understand India's economy.
Interviews where books by Kaushik Basu were recommended
From a book about applying game theory to public policy to an account of how modern management practices were first developed on slave plantations, it's been another good year for interesting and accessible economics books. Cambridge professor Diane Coyle talks us through her selection of the best economics books of 2018.