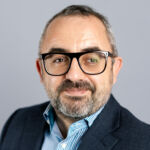 Kaya Şahin
Kaya Şahin is Professor of History and the Executive Associate Dean of the Hamilton Lugar School of Global and International Studies at Indiana University.
Books by Kaya Şahin
A new biography of Süleyman (often called 'the Magnificent' in the West, but not in this book), the Ottoman sultan who ruled from 1520 to 1566.  He was one of the most powerful men in the world but to the modern reader, his life seems utterly tragic. The book is by Kaya Şahin, a historian at Indiana University, who is able to bring his knowledge of Turkish sources to the story. Another aim of the book is "to restore Süleyman's place among the major figures of the sixteenth century"—which also included Henry VIII, Charles V and Francis I (Europe), Ivan IV (Russia), Babur and Akbar (India), Shah Ismail and Shah Tahmasb (Iran).
Interviews with Kaya Şahin
The Ottoman ruler Süleyman was one of the most powerful men in early modern Europe and highly adept at building his reputation for posterity. In European languages, he is still often graced with the epithet 'the Magnificent.' The reality was much more mixed, as a new biography of Süleyman shows. Historian Kaya Şahin talks us through books to better understand Sultan Süleyman and the world he lived in.