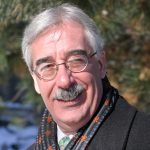 Kenneth Bartlett
Kenneth Bartlett is a Professor of History and of Renaissance Studies, a program he helped establish in 1979, at Victoria College in the University of Toronto.
Books by Kenneth Bartlett
Interviews with Kenneth Bartlett
If you're going to look at the past, you have to understand the people who were living there and see the world through their eyes, says historian and Renaissance specialist Kenneth Bartlett. He picks the best books written during the Italian Renaissance.
Books by Kenneth Bartlett