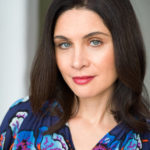 Lauren Mechling
Lauren Mechling has written for The New York Times, The Wall Street Journal, Slate, The New Yorker online, and Vogue, where she writes a regular book column. She's worked as a crime reporter and metro columnist for The New York Sun, a young adult novelist, and a features editor at The Wall Street Journal. Her debut novel for adults is How Could She. A graduate of Harvard College, she lives in Brooklyn with her husband and two children, and can be found on Twitter @laurenmechling.
Interviews with Lauren Mechling
Friendships: they can be hard to keep and even harder to understand. Yet so often they end up having enormous impacts on our lives. Lauren Mechling, contributing editor at Vogue and author of the novel How Could She, picks the novelists that best portray the thorny underside of friendship as well as its joys.