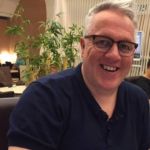 Lloyd Llewellyn-Jones
Lloyd Llewellyn-Jones is Professor of Ancient History at Cardiff University. He is the author of many books and articles, including Aphrodite's Tortoise: the veiled woman of ancient Greece; Designs on the Past: How Hollywood Created the Ancient World; King and Court in Ancient Persia, and Ctesias' History of Persia: Tales of the Orient. He is currently writing The Persians for Wildfire Books, and is working on a commentary of the biblical Book of Esther.
Books by Lloyd Llewellyn-Jones
In Persians: The Age of the Great Kingsby Lloyd Llewellyn-Jones tells the history of the Achaemenid Persian Empire—the largest empire of antiquity—from the point of view of the Persians. The book starts in 1000 BCE and ends in 330 BCE, after Alexander the III (aka the Great)'s defeat of Darius III. As Llewellyn-Jones points out, it's also the story of "one of the great dysfunctional families of history."
Interviews with Lloyd Llewellyn-Jones
At the height of its greatness, the Achaemenid Persian Empire was the largest empire the world had ever known. Too often it is given merely a villainous walk-on part in the heroic history of classical Greece. Here, historian Lloyd Llewellyn-Jones explains why that needs correcting, looks at its cultural achievements and discusses why the first Persian empire is worth studying in its own right and on its own terms.