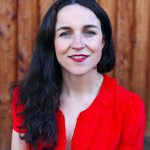 Louise Gray
Louise Gray is an author and journalist based in Scotland. Formerly The Daily Telegraph's environment correspondent, she specialises in writing about food, farming and climate change. Her book, The Ethical Carnivore, charts a year spent eating only meat from animals she had killed herself, and her broader investigation into meat production in the UK.
Interviews with Louise Gray
What does it mean to be an ethical meat-eater? Author and journalist Louise Gray chooses five books that examine the impact of our omnivorous lifestyle, and explains why she spent a year only eating the animals she had killed herself.