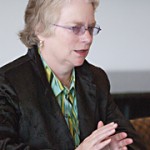 Lynn Hunt
Hunt is the Eugen Weber Professor of Modern European History at the University of California, Los Angeles. Her 2007 work, Inventing Human Rights, has been heralded as the most comprehensive analysis of the history of human rights. She served as president of the American Historical Association in 2002.
Interviews with Lynn Hunt
It's a revolution that still resonates and yet it resists easy interpretation. Lynn Hunt, a leading historian of the French Revolution, tells us what the events of 1789 and later years really meant, and what relevance they have for us today.
Interviews where books by Lynn Hunt were recommended
The Iraqi poet chooses books on civil and human rights. "I want to spread the word. I want people to get more involved in the political process here in Iraq"