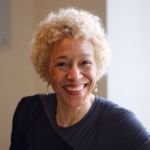 Margo Jefferson
Margo Jefferson, a Pulitzer Prize-winning critic, is the author of On Michael Jackson and Negroland: A Memoir, which won the 2015 National Book Critics Circle Award for Autobiography, the International Bridge Prize and the Heartland Prize. She teaches in the School of the Arts Writing Program at Columbia University.
Books by Margo Jefferson
🏆 Winner of the 2023 Rathbones Folio Prize
Margo Jefferson combines criticism and memoir in Constructing a Nervous System. This mirrors what Jefferson said when we interviewed her several years ago "I realised that I needed, in some way, to merge and to keep those two forms in dialogue, interrogating – as we like to say – each other. So, I began to think of cultural memoir." Margo Jefferson on cultural memoirs.
"We tend to read about the civil rights struggle or the story of poor blacks in the South, but not so much middle class African-American society." Read more...
Stephanie Flanders, Economist
Interviews with Margo Jefferson
The Pulitzer Prize-winning critic celebrates a form in constant flight from definition, that finds expression in hybrid texts and plays-within-plays, and that is as at home in high art as in pop culture.
Interviews where books by Margo Jefferson were recommended
Stephanie Flanders, chair of this year's Baillie Gifford Prize for Non-Fiction, talks us through some of the best nonfiction books of 2016.