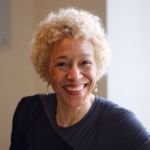 Margo Jefferson
Margo Jefferson, a Pulitzer Prize-winning critic, is the author of On Michael Jackson and Negroland: A Memoir, which won the 2015 National Book Critics Circle Award for Autobiography, the International Bridge Prize and the Heartland Prize. She teaches in the School of the Arts Writing Program at Columbia University.
Books by Margo Jefferson
"We tend to read about the civil rights struggle or the story of poor blacks in the South, but not so much middle class African-American society." Read more...
Stephanie Flanders, Economist