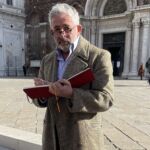 Matthew Rice
Matthew Rice is an artist and designer and has written a number of beautifully illustrated books about architecture.
Interviews with Matthew Rice
Venice once ruled an empire that stretched across the eastern Mediterranean, but by the early modern period was already evolving into a city whose greatest claim to fame was as a tourist destination. Here Matthew Rice, author and illustrator of Venice: A Sketchbook Guide, recommends books to read about Venice and its history and architecture, as well as a couple of crime thrillers to read while you're there.