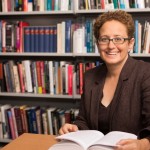 Melissa Lane
Melissa Lane is Class of 1943 Professor of Politics at Princeton University and director of the University Center for Human Values. She is an associated faculty member in the Department of Classics and the Department of Philosophy and serves as co-director of the Princeton Climate Futures, based at the Princeton Environmental Institute.
Interviews with Melissa Lane
Plato came from a politically active family, but renounced politics to become a philosopher. Or did he? Professor Melissa Lane of Princeton University recommends the best books to get a better understanding of the Greek philosopher Plato, including his most famous work, the Republic.