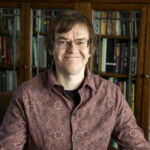 Michael Clune
Michael W. Clune is Knight Professor of the Humanities at Case Western Reserve University. His most recent critical book is A Defense of Judgment (U of Chicago Press, 2021); the 10th anniversary edition of his book White Out: The Secret Life of Heroin has just been released by McNally Editions. Clune's critical and creative writing has been supported by Guggenheim and Mellon Fellowships, and has appeared in venues including Harper's, Critical Inquiry, Behavioral and Brain Sciences, and the Atlantic.
Interviews with Michael Clune
Modernist novels emerged as a reaction against modernity but, in their focus on inner consciousness, captured the experience of living life like never before. American writer and critic Michael Clune picks five of the best modernist novels from 1936 up to 2013. Modernist literature is still with us, he explains, because what it was reacting against is still with us.