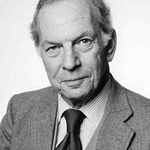 Michael Howard
Sir Michael Eliot Howard (1922-2019) was a military historian. He served as Regius Professor of Modern History at Oxford University and Robert A Lovett Professor of Military and Naval History at Yale University. He fought in the Italian Campaign in the Second World War, was twice wounded and won a Military Cross for his bravery at Salerno.
Interviews with Michael Howard
Fear is a great examiner of one's character, argues the World War II veteran and eminent historian of war, Sir Michael Howard. He recommends the best books on war, two on strategy and three on what it's actually like for soldiers and commanding officers.
Interviews where books by Michael Howard were recommended
It's been 100 years since World War I ended, but there is still very little consensus about what caused it, or what its consequences were. Historian Jonathan Boff talks us through the latest books and best modern interpretations of World War I.