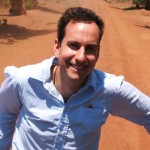 Michael Peel
In 2002 Michael Peel moved to Lagos, Nigeria, to become the Financial Times's West Africa correspondent. His book, A Swamp Full of Dollars, published in 2009, is the story of how Nigeria was shaped by the oil that pumps through western cities. It was shortlisted for the Guardian First Book Award and has been nominated for the Orwell Prize. Peel returned to London in 2005 to become the FT's legal correspondent and is now the paper's Bangkok regional correspondent.
Interviews with Michael Peel
The FT's former West Africa correspondent talks us through five books that helped him to understand Nigeria.